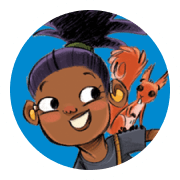 Willow's Woodland Week
We hope you are enjoying the Summer Reading Challenge so far!
Each week, we'll be focusing on one of our Wild World Heroes and recommending books and activities themed around their habitat.
To kick us off, we have Willow! She and Hazel the squirrel spend most of their time in the woodland. They love reading chapter books and scary stories! Check out the great reads they are recommending this week, from mysterious novels to books that guide you on a trail through the woods!
Look What I Found in the Woods
Follow me. I know the way. We're walking through the woods today. Look what I found! A curly stick to wave like a magic wand. Set off on an outdoor adventure to find natural treasure, from prickly pine cones to swirly snail's shells, then learn more about the found object with irresistibly illustrated and informative nature notes.

The Creature Keeper
Creepy Direspire Hall sits glowering on the moors – and if you stray too close then beware the growls and scary sounds from within… When animal lover Cora learns that Direspire's mysterious owner is looking for a new Creature Keeper, she realises this might just be the chance she's looking for to save her parents' farm. But Direspire Hall is a spooky place and the strange creatures who live there are nothing like Cora is expecting. As Cora settles into her new life, it soon becomes clear that Direspire has its secrets, and that somebody will do whatever it takes to keep them…

Pedro the Puerto Rican Parrot
In the first book in Together We Can Change the World series, it is love that can change the world. Dominic takes Pedro the parrot under his wing, nursing him back to health, before releasing him back into the wild.
You can also download the activity sheet for this book here.

Tamarind and the Star of Ishta
Tamarind never knew her Indian mum, Chinty, who died soon after she was born. So when she arrives at her mother's ancestral home, she's full of questions for her extended family. But instead of answers, Tamarind finds a sad and beautiful mystery…

The Wild Way Home
When Charlie's longed-for brother is born with a serious heart condition, Charlie's world is turned upside down. Upset and afraid, Charlie flees the hospital and makes for the ancient forest on the edge of town. There Charlie finds a boy floating face-down in the stream, injured, but alive. But when Charlie sets off back to the hospital to fetch help, it seems the forest has changed. It's become a place as strange and wild as the boy dressed in deerskins. For Charlie has unwittingly fled into the Stone Age, with no way to help the boy or return to the present day. Or is there?

As well as these wonderful reads, we have a range of great activities, competitions and games. Check out this
Colour In Activity Sheet
from Sarah Dennis, author of Endangered Animals.