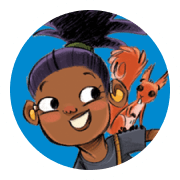 Meet Our Heroes: Willow and Hazel
Give Willow a warm welcome!
Willow and Hazel the Red Squirrel love exploring the Wilderville Woods and taking care of the animals that live there. Willow also likes going rock climbing and learning new wilderness skills.
When they're not outside adventuring, Willow and Hazel like reading spooky, scary stories together. Willow uses British Sign Language. Check out the resources from the National Deaf Children's Society and learn the BSL alphabet here.
Join Willow and Hazel at your library this summer for Wild World Heroes!
Can you help them take care of the woodland and become a wild world hero yourself?