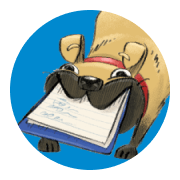 Welcoming all Wild World Heroes!
The Summer Reading Challenge 2021 is now here! We can't wait to introduce you to our brilliant heroes and get you set up on your reading journey!
We're teaming up with WWF for a very special nature-themed Challenge that will inspire you to stand up for the planet!
Take a trip to Wilderville, where the Wild World Heroes are learning how to make their town a cleaner, greener place for all the people and wildlife that live there. As you read books for the Challenge, you'll get to go exploring all over Wilderville, from the woods to the farm and even the beach!
With your help, the heroes will transform Wilderville into an even cooler place to be, and will discover lots of brilliant books along the way!
Meet the Heroes
Click on the links below to learn more about the Wild World Heroes – and their animal companions – and their plans to make Wilderville the best place to live ever!
Journey through the woods with Willow and Hazel
Travel along the river with David and Webster
Get creative with gamer Faiza and Mouse
Get down to the beach to meet Callum and Shelby
Make some noise with activist Carys and Doug
Take a trip to the farm with Marcus and Charlie
Taking Part in the Challenge
You can take part in the Challenge by signing up at your local library.
It's completely free to sign up! Your library will give you a special Collector Poster map of Wilderville and help you find books to read.
As you read books for your Challenge, return to the library to receive stickers to add to your map – some of them even have smells!
Collect all the stickers to complete the Challenge and transform Wilderville.
You'll get a special Wild World Heroes certificate too!
Want to find out which library services near you run the Challenge? Use our brand-new Library Zone
Or you can take part in the Challenge here on our website!
Choose a summer reading goal – we recommend six books, but you can challenge yourself to read as many as you like!
Each time you finish a book, add it to your website profile to unlock special badges and activities. You'll unlock a Wild World Heroes certificate when you reach your summer reading goal.
If you already have a website profile from a previous Summer Reading Challenge, you can sign in to get started with Wild World Heroes. If you're taking part online for the first time, you'll need a parent or carer to help you sign up – click the 'Join' button at the top of the page to get started.
There is plenty to do on our website, from games to activities and competitions.
You can even talk about your favourite books and characters in the Chat
We'll be sharing top tips and videos from our friends at WWF, plus fun crafts, reading recommendations and special messages from amazing authors and illustrators.

Reading books for the Challenge
You can choose any books you like to count towards your Summer Reading Challenge.
Fact, fiction, poetry, graphic novels, joke books – the choice is yours!
eBooks and audiobooks count too, so you can read wherever and however you like!
This website allows you to keep track of the books you read and to unlock extra digital rewards. To find books to read, there's no better place to start than at your local library.
You can borrow books for free, including eBooks and audiobooks, and there are so many to choose from!
Visit the Library Zone to find participating services in your area.
Let's get reading and get ready to become Wild World Heroes!