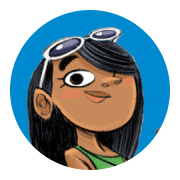 Meet Our Heroes: Faiza and Mouse
Meet Faiza and her purr-fectly wonderful companion Mouse!
Faiza likes gaming, coding and making videos about the issues affecting her neighbourhood. Her cat, Mouse is usually the star of them! Faiza wants to help her friends and teachers find other ways to get to school instead of driving.
Faiza and Mouse love cuddling up and listening to a Sci Fi audio book together.
Join Faiza and Mouse at your library this summer for Wild World Heroes!
Can you help them convince their classmates and teachers to drive less and become a wild world hero yourself?