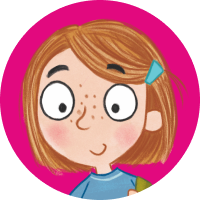 Meet the team: Sophia
Introducing… Sophia!
Sophia loves playing board games – it's a great chance to spend time with her friends and family. Whether it's throwing dice, flipping counters or balancing blocks, Sophia knows what to do.
Her favourite activity is making up life-size games of her own. Sophia loves to keep moving, and it helps her brain think and concentrate better.
Sophia's favourite thing to read is fantasy stories!
Get a roll on… check out Sophia's activity card below for active dice and story games (endorsed by Teach Active). There's a warm up, skills challenge, and a game to get you moving and thinking.
Bringing our superstar team to life, the set of amazing activity challenge cards have been created by our partner Youth Sport Trust.
Join the Summer Reading Challenge at your library OR online.
If you're taking part online, add the books you have read and give them a review!
If you fancy reading a fantasy story too, why not try the captivating The Sky Beneath the Stone? Recommended for 9+ year olds, this tale of family, friendship and overcoming fear is set in an enchanted version of the Lake District.
Need more reading inspiration?
Find more recommendations here.