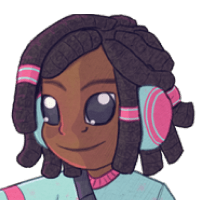 Meet The Gadgeteers: Maggie
Get to know Maggie!
Maggie likes to cook tasty treats for her friends, and she hates wasting food.
Her special skill is experimentation – she always wants to try new things.
Perfect! Do you think she can turn some leftover vegetable scraps into something yummy for the Gadgeteers' party?
Maggie wears her sensory headphones when visiting new places or if things get too loud.
She always makes time to read. Her favourite genre? Fantasy books and sci-fi!
Join Maggie at your library this summer for Gadgeteers!
Are you ready to use your scientific and mathematical skills to create experiments that are good enough to eat? Do you have a bright idea for reducing food waste? Write it down and share with a friend – what do they think?
Keep an eye on our blog and activities pages for fun facts and activities to keep you entertained this summer.