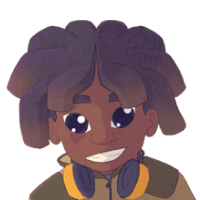 Meet The Gadgeteers: Leo
Say hi to Leo!
Leo is obsessed with music!
He's learning to play the drums with his older sister and has found a handy way to amplify the sound from his phone to play music at a party.
His special skill is communication – he's great at explaining things to his friends and listening to their ideas.
Find out the science behind Leo's "tune booster" and many more fantastically fun facts in our awesome Area Cards, produced with Science Museum Group.
Leo loves reading poems.
His recommendations for brilliant books of poetry:
Enjoy funny and dreamlike poems in…
Or get excited about the fascinating world of insects with…
Find many more exciting reads in the official book collection. Keep an eye on our blog and activities pages for fun facts and activities to keep you entertained this summer.