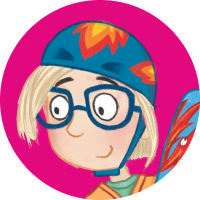 Meet the team: Ollie
Get to know.. Ollie!
It's all about skateboarding for Ollie.
He likes the freedom of being outside doing tricks – it clears his mind. When Ollie is learning a new trick, he knows he will need to practise it over and over again until he gets it right – but that's part of the fun.
Blaze the phoenix is his inspiration – he wants to fly like her!
Ollie is dyslexic but that never stops him reading. His favourite thing to read are funny stories and he loves listening to a good audiobook.
You can practise your balancing skills and even create your own skate park balance obstacle course with Ollie's activity challenge card below.
Bringing our superstar team to life, the set of amazing activity challenge cards have been created by our partner Youth Sport Trust.
Join the Summer Reading Challenge at your library OR online.
If you're taking part online, add the books you have read and give them a review!
Look out for helpful tips around supporting reading with dyslexia coming soon to the website!
If you love funny stories like Ollie, why not try The Amazing Edie Eckhart: The Big Trip by comedian and Summer Reading Challenge Champion, Rosie Jones
Or for a skatepark adventure, how about Rudy and the Wolf Cub?
Need more reading inspiration?
Find more recommendations here.