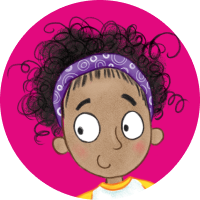 Meet the team: Alesha
Meet… Alesha!
Alesha is happiest reading comics or playing football in the park, and loves being part of a team with her friends.
She is always practising her footy skills, whether that's with a ball at her feet, side-stepping between cones, or sprinting between goals.
Her dog, Dynamo, loves to be involved, too – especially when there's a ball to play with!
Have a go with Alesha and Dynamo and see how your fancy footwork matches up with Alesha's activity challenge card – endorsed by the Women's FA – adaptions included!
Bringing our superstar team to life, the set of amazing activity challenge cards have been created by our partner Youth Sport Trust.
Join the Summer Reading Challenge at your library OR online.
If you're taking part online, add the books you have read and give them a review!
For footie fans and graphic novel fans, Booked is a brilliant story about football, family, love, and friendship
Need more reading inspiration? Find more recommendations here.