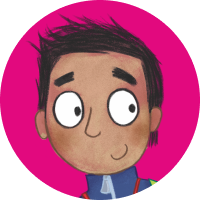 Meet the team: Naveen
Meet… Naveen!
Naveen is always cheering people on and encouraging everyone to get involved in games at the playground, he's super patient which makes him a great leader!
With Cosmo the cat by his side, Naveen enjoys creating exciting activities for his friends to play. He loves stories about real-life inspiring heroes.
Take on the active challenges in Naveen and Cosmo's activity challenge card below. There's a warm up, skills challenge, and a game to get you moving and thinking.
Get your creative cap on and download an extra card to create your own activity challenges for friends or family – click on the button below!
Bringing our superstar team to life, the set of amazing activity challenge cards have been created by our partner Youth Sport Trust.
Join the Summer Reading Challenge at your library OR online.
If you're taking part online, add the books you have read and give them a review!
If you're into inspiring real-life stories too, take a look at Ayeisha McFerran: Great Irish Sports Stars…
Or for early readers, try the brilliant Strong and Tough by Rico Hinson-King…
Rico Hinson-King, Nick Sharratt

Need more reading inspiration? Find more recommendations here.